Press
LA Business Journal: Full Houses | Michael Nourmand
June 6, 2013
Full Houses
Home theater, waterfall not enough at high end
By Jacquelyn Ryan Monday, June 24, 2013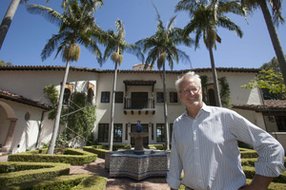 Bowling alleys. Movie theaters. Italianate spas. Shooting ranges. Pyrotechnically enhanced dance floors.
These might sound like attractions at a Las Vegas casino, but in L.A.'s ultraluxury home market, they are becoming built-in necessities.
"The hot button in the high-end market is having something nobody else has," said Lauren Forbes, a broker specializing in luxury real estate for Coldwell Banker in Manhattan Beach.
As the market for luxury real estate – homes selling for more than $3 million – and ultraluxury ($10 million-plus) real estate has taken off, agents, designers and architects are seeking creative ways to distinguish L.A.'s mansions.
"For one home, it's the size of the lot and frontage on the beach," said Forbes. "For other houses, it's being able to say they have a 3,000-square-foot basement with a bowling alley in it."
For those high-net-worth people who prefer not to leave the comfort of their 10,000-plus-square-foot homes, those amenities are a way to bring the outside world in.
Architect Doug Burdge, who has been designing tony homes around Malibu and the Westside for decades, said many clients have been looking to add or convert existing basements – rare in Southern California – for bonus rooms to house such amenities.
"We are putting basements in homes for high-net-worth buyers or celebrities," said Burdge. "They can't go to the gym or go out and that's their lifestyle, so we are double-using the basement. It can be a home theater, gym and wine storage … making it so it doesn't feel like a basement."
Bragging rights
The number of high-end homes sold in Los Angeles has climbed significantly over the last 12 months. In May, 106 homes sold for $3 million or more in Los Angeles County, a 40 percent increase from the 76 sold the year earlier, according to Seattle brokerage Redfin. Last month's sales volume represents a 212 percent improvement over the 34 $3 million-plus homes sold in May 2008, still in the throes of the recession.
The profile of the buyers at this end of the market, agents said, is generally someone looking for a second, third or even fourth home. Sales to international buyers – mostly from Asia, Europe and Russia – are picking up, with foreign buyers accounting for about 20 percent of the volume at the high end of the market in the last year, according to Mauricio Umansky, chief executive of L.A. luxury real estate brokerage Agency.
At that end of the market, he said, amenities like bowling alleys offer a good point of distinction without having a significant impact on price.
"It basically costs the same when you add the basement to add your wine cellar, theater or to add a bowling alley," he said. "In a 22,000- or 30,000-square-foot house, you are talking about a small cost differential. It's a function of, why not build it?"
An informal survey of agents specializing in high-end properties offered an insight to the lengths some owners will go to differentiate their homes:
One oceanside mansion in Manhattan Beach includes a ground-level bathroom-locker room where sunbathers can rinse off the sand before coming indoors. The shower includes a skylight with a view of the indoor pool above. The room also includes a waterfall that doubles as a urinal.
A 10,000-square-foot Westside home includes a 3,000-square-foot basement-level firing range, while a Malibu home has a two-lane vintage bowling alley, complete with overhead scoreboard.
A Brentwood home has a lighted auto museum for a vintage car collection, while a home in Bel Air has an ornate indoor pool and spa surrounded by marble floors and Roman columns.
Among the other amenities at area homes are massive his and hers walk-in closets, large Italian spas, full billiard rooms, 50-seat movie theaters, and bathtubs with panoramic ocean and city views.
The basics
These big-ticket amenities come on top of more quotidian features. Homes these days are expected to have smart-home features like wall-mounted iPads that manage mechanical systems that control everything from the temperature and locks to the curtains and video surveillance systems.
Umansky pointed to an 11-acre lot in Holmby Hills for which he has the listing as illustrative of just how lavish luxury homes can be. The seller is offering the site, which already houses a 10,000-square-foot home, as a development opportunity and is including in the sale architectural plans for a 50,000-square-foot mansion replete with an indoor-outdoor pool; an Italianate spa with sauna, Jacuzzi and massage parlor; a bridge over a waterfall; and a bridle path. If built according to plan, the property would be worth $250 million.
Yet such outlandish amenities aren't the only things considered important to differentiating super-expensive homes.
Michael Nourmand, president of real estate brokerage Nourmand & Associates in Beverly Hills, said views are making a serious comeback in the market – and are important even in seemingly insignificant areas like the bathroom.
"A view is something people are willing to drop large amounts of money on now," he said. "They are paying for the expansive view of the ocean and city. The ocean at night is a black hole; it looks great during the day but at night time what are you looking at? They want that real nice Century City view with ocean in the background."
Yvonne Colacion, owner of interior design firm Colacion Studio in Long Beach, said she is often brought into work on existing homes when a purchaser or developer is looking to add amenities. She said most homeowners prefer to buy homes already equipped with amenities, but still like to personalize the homes once they move in.
She helped a Westside client create a two-story closet that could accommodate her travel and at-home wardrobes.
She also helped create a replica of a high-end spa a client had experienced on a trip abroad.
"Customized things that are personalized are very important to the clients that I've been working with," she said. "Clients are very well traveled and their visual dictionary is quite large and in most cases they know exactly what they are trying to achieve: It's a memory where they had a holiday with their family and it's the small, special details. They are traveling to these wonderful hotels and they want to create that at home."